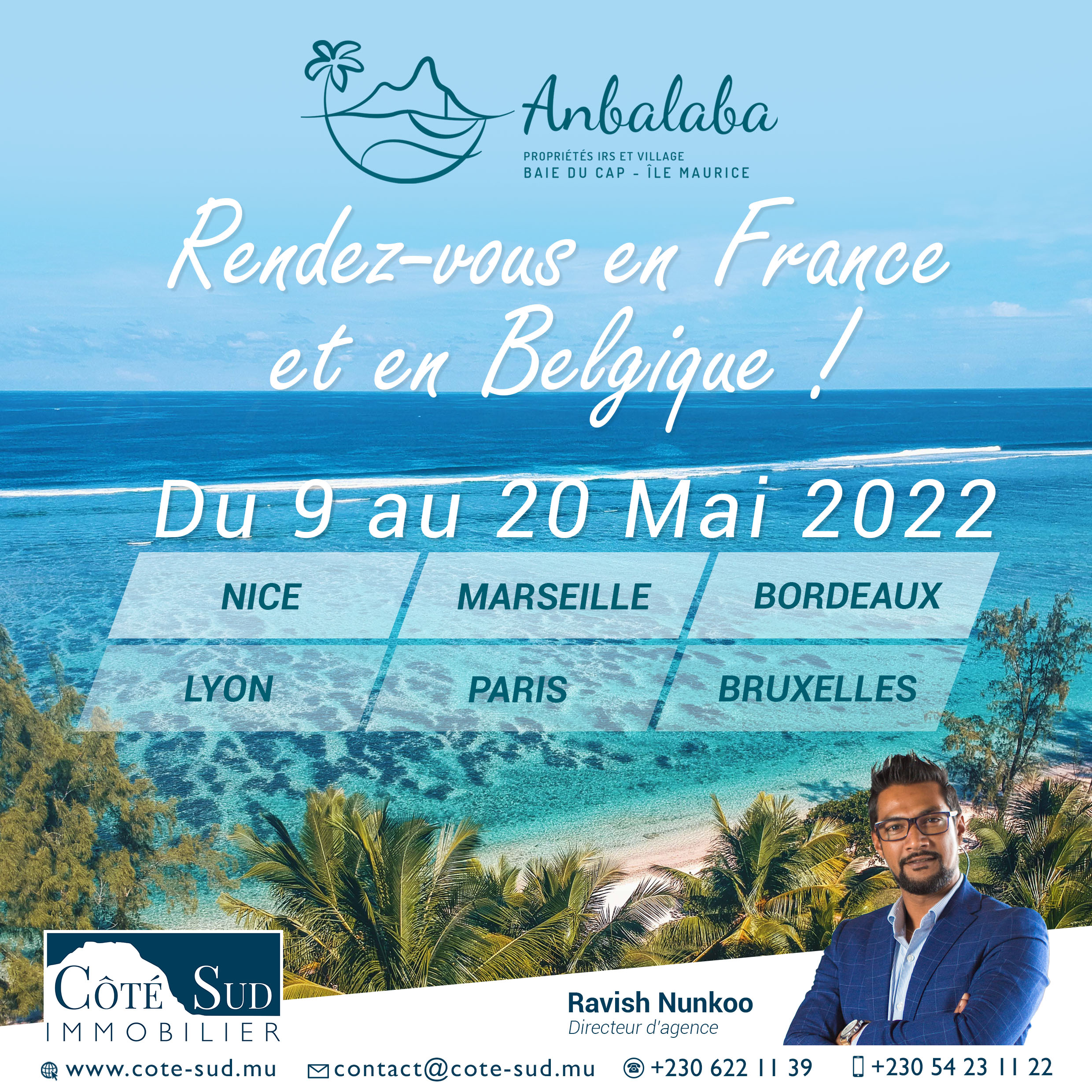 Rendez-vous in France and in Belgium from 09 to 20 May 2022!
The team of Côté Sud Immobilier is pleased to announce that we will soon be in France and Belgium to present you the flagship product of the South of Mauritius – Anbalaba. This unique real estate program offers its clients total immersion in an innovative concept with an integrated village.
Whether you are planning the purchase of a second home, an investment with enticing profitability or even a dream home for a golden retirement in Mauritius, we invite you to meet our team with the director of the agency – Ravish Nunkoo.
We therefore invite you from May 9 to 20, 2022 in the six largest cities in France. The perfect opportunity to share with us your aspirations in terms of real estate project. Here is the schedule:
Date
City
Hotel
Time
Monday 09 May
Nice
Hôtel Aston La Scala
12 Avenue Félix Faure, 06000 Nice
17h00 – 21h00
Wednesday 11 May
Marseilles
World Trade Center Marseille Provence
2 Rue Henri Barbusse, 13001 Marseille
17h00 – 21h00
Friday 13 May
Bordeaux
Quality Suites Bordeaux Aéroport & Spa
83 Avenue John Fitzgerald Kennedy, 33700 Mérignac
10h00 – 14h00
Monday 16 May
Lyon
Marriott Lyon Cité Internationale
67 quai Charles de Gaulle 69006 Lyon
17h00 – 21h00
Wednesday 18 Mai
Paris
Cercle Le Brun
47, rue du Cardinal Lemoine 75005 Paris
17h00 – 21h00
Friday 20 May
Brussels
Le Château de la Solitude
54 Avenue Schaller, 1160 Auderghem
15h30 – 18h00
Events Calendar
Real estate investment in Mauritius
The real estate market in Mauritius is particularly flourishing and attractive for the French market. In addition to the various tax advantages linked to these investments, the paradisiacal living environment of the real estate programs is a dream! The Anbalaba program is unique among the offer on the Island, as it is located in the unspoiled nature of the south, with an unobstructed view overlooking the turquoise lagoons.